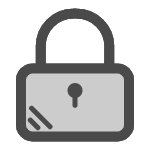 Supports Immune Health†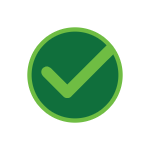 Sourced from high quality ingredients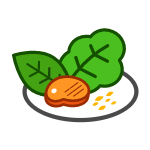 Can be found in a well-balanced meal
What this Supplement is
Ready to shake up your immune health support routine? ImmuneMAX† TM offers 2x the amount of vitamin C and zinc per serving as leading brands, all in one tasty fizzy drink.†** This product also provides vitamin D for immune support, plus 7 essential B vitamins to help support energy metabolism and nervous system function.† Just add water to enjoy some zesty orange immune health support—all in one fast-absorb daily stick pack.†***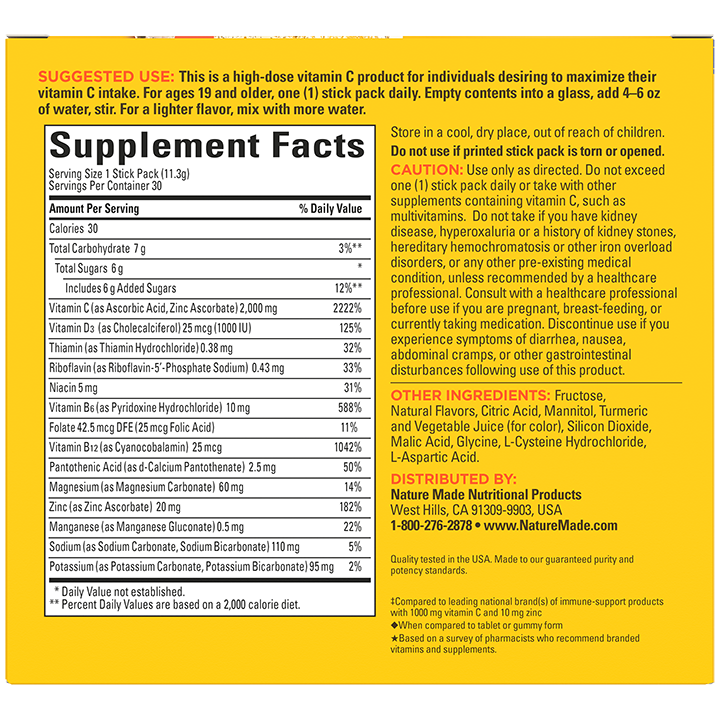 What's in our ImmuneMAX† ™ Fizzy Drink Mix 2000 mg Vitamin C with Zinc and Vitamin D Stick Packs
Ingredients
Amount per Unit: 2000 mg Vitamin C, 25 mcg (1000 IU) Vitamin D3 , 0.38 mg Thiamin, 0.43 mg Riboflavin, 5 mg Niacin, 10 mg Vitamin B6, 42.5 mcg DFE Folate, 25 mcg Vitamin B12, Pantothenic Acid 2.5 mg, 60 mg Magnesium, 20 mg Zinc, 0.5 mg Manganese, 110 mg Sodium, 95 mg Potassium.
No Artificial Flavors
No Synthetic Dyes – Color Derived from Natural Sources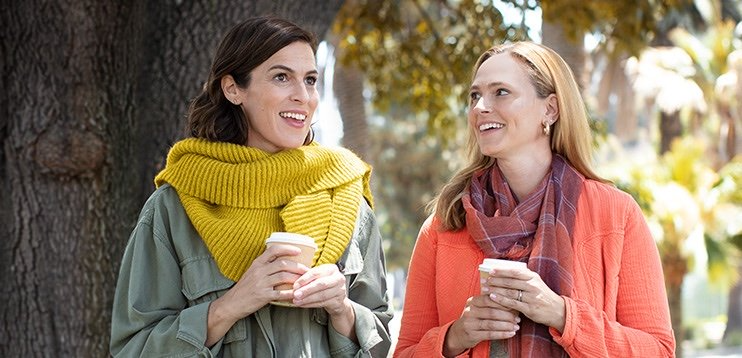 What dietary shortfalls does this product address?
Vitamin C is a shortfall nutrient. Almost 1/2 of U.S. adults don't get enough vitamin C from their daily food intake. Vitamin D is also a shortfall nutrient. More than 95% of the U.S. adult population fall short of vitamin D in their daily food intake and almost 1/3 are vitamin D deficient.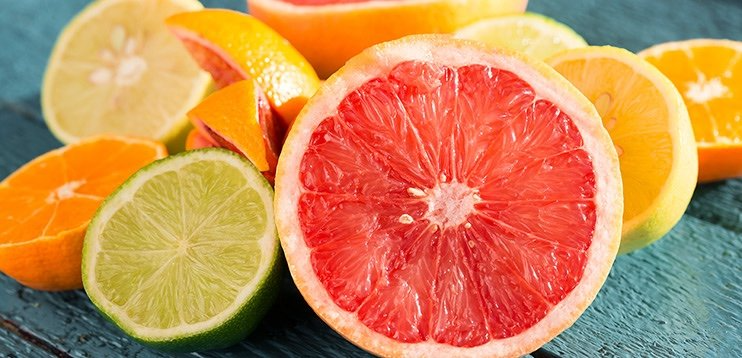 Where do we normally get this product from?
Vitamin C is found in citrus fruits like oranges, lemons, grapefruit, and limes. It's also found in tomatoes, red peppers, broccoli, and strawberries. Zinc is found in beef, poultry, and shellfish. Sunlight provides the main source of vitamin D. Few foods naturally contain vitamin D, but those that do include certain fatty fish (such as salmon, mackerel, and sardines), fish liver oils, and egg yolks. B vitamins are found fortified breads, as well as chicken, salmon, and beef.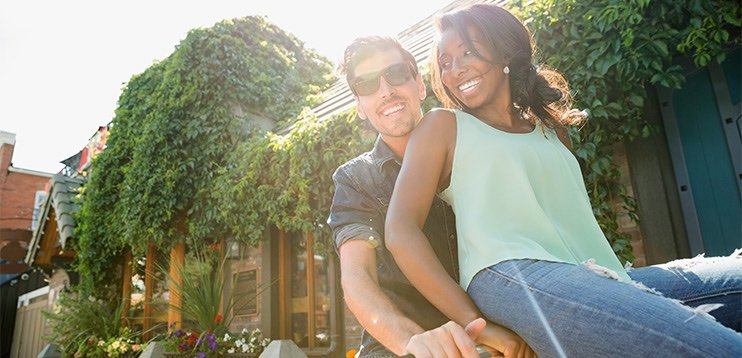 Who might need to take this product?
Glad you asked! Anyone looking to increase their vitamin C, vitamin D and zinc intake to support their immune health.†
Suggested Use: This is a high-dose vitamin C product for individuals desiring to maximize their vitamin C intake. For ages 19 and older, one (1) stick pack daily. Empty contents into a glass, add 4-6 oz of water, stir. For lighter flavor, mix with more water.
Interactions
No two people are alike, so if you are taking medications you should be aware that potential drug-nutrient interactions may occur. Consult a healthcare professional before using this product. Combining certain prescription drugs and dietary supplementation can lead to:
Diminished drug effectiveness
Reduced supplement effectiveness
Impaired drug and/or supplement absorption
Use caution:
Use only as directed. Do not exceed one (1) stick pack daily or take with other supplements containing vitamin C, such as multivitamins. Do not take if you have kidney disease, hyperoxaluria or a history of kidney stones, hereditary hemochromatosis or other iron overload disorders, or any other pre-existing medical condition, unless recommended by a healthcare professional. Consult with a healthcare professional before use if you are pregnant, breast-feeding, or currently taking medication. Discontinue use if you experience symptoms of diarrhea, nausea, abdominal cramps, or other gastrointestinal disturbances following use of this product.
---