Supports Sleep Health
Sourced from high quality ingredients
Can be found in milk and eggs
What this Supplement is
When you get a good night's sleep, you feel refreshed and ready to start your day. Melatonin is a hormone produced in the pineal gland in your brain, which helps to regulate sleep and wake cycles.† L-theanine is a naturally occurring amino acid found in green tea that helps put your mind at ease.† Nature Made® Sleep, made with a combination of L-theanine and melatonin, is a natural acting sleep aid that helps you fall asleep, naturally.‡† Here's to some interesting dreaming.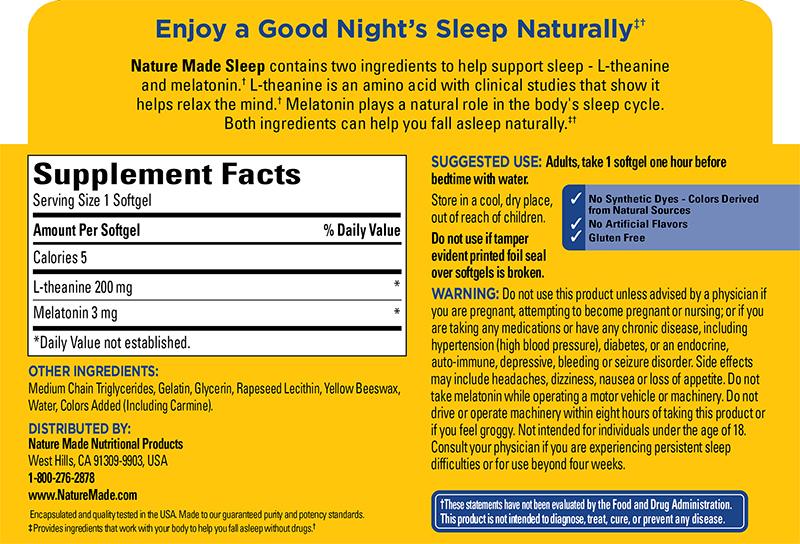 What's in our Sleep 3 mg with 200 mg L-theanine Softgels
Ingredients
No Artificial Flavors
No Synthetic Dyes—Colors Derived from Natural Sources
Gluten Free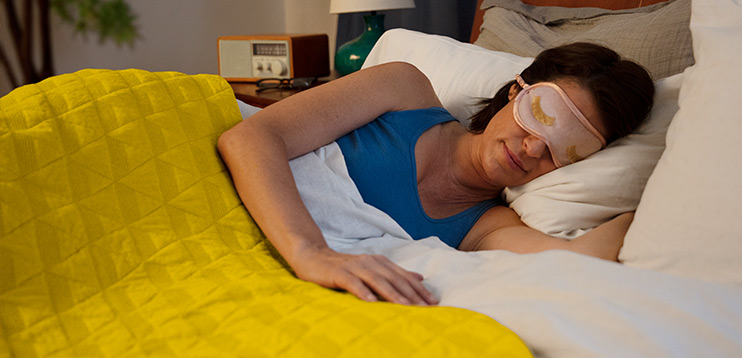 What dietary shortfalls does this product address?
Nature Made® melatonin products help you fall asleep naturally, providing ingredients that work with your body to help you fall asleep without drugs.†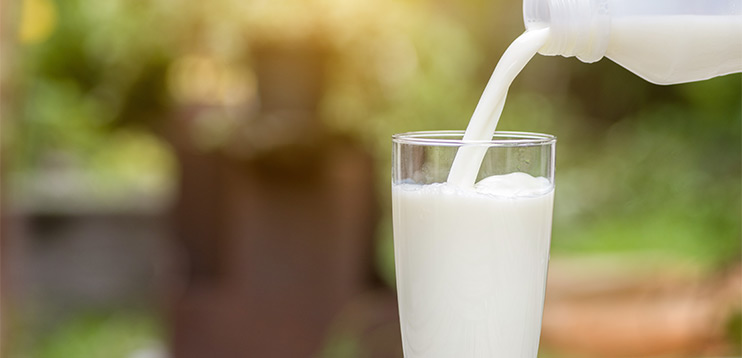 Where do we normally get this product from?
Melatonin is a hormone produced in the pineal gland in your brain and is also present in very small amounts in some foods like pistachio nuts, rice, milk, eggs, salmon and beef. L-theanine is normally found in green tea.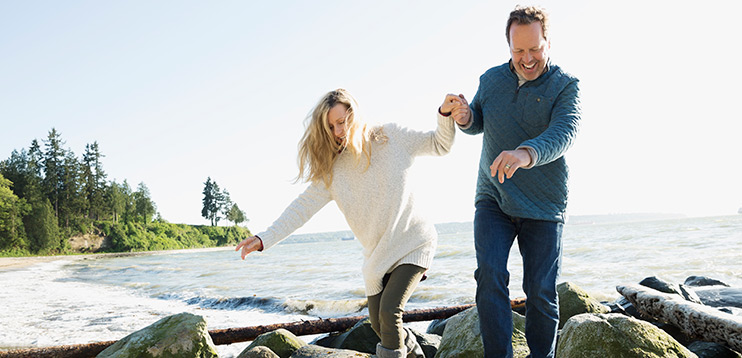 Who might need to take this product?
Glad you asked! It's specially formulated for adults who are looking to support restful sleep.
Suggested Use: Take one softgel one hour before going to bed. Do not exceed one softgel daily unless recommended by a healthcare professional.
Interactions
Given that no two people are alike, if you are taking any medications you should be aware that potential drug-nutrient interactions may occur and are encouraged to consult a healthcare professional before using this product. Combining certain prescription drugs and dietary supplements can lead to undesirable effects such as:
Diminished drug effectiveness
Reduced supplement effectiveness
Impaired drug and/or supplement absorption
Use caution:
WARNING: Do not use this product unless advised by a physician if you are pregnant, attempting to become pregnant or nursing; or if you are taking any medications or have any chronic disease, including hypertension (high blood pressure), diabetes, or an endocrine, auto-immune, depressive, bleeding or seizure disorder. Side effects may include headaches, dizziness, nausea or loss of appetite. Do not take melatonin while operating a motor vehicle or machinery. Do not drive or operate machinery within eight hours of taking this product or if you feel groggy. Not intended for individuals under the age of 18. Consult your physician if you are experiencing persistent sleep difficulties or for use beyond four weeks. Melatonin should not be used unless advised by a physician if you are taking any medications, including: Antidepressants Antianxiety medications Diabetes medications Narcotics Blood pressure medication Asthma medication
---