Supports Sleep Health†
Sourced from high quality ingredients
Can be found in milk and eggs
What this Supplement is
Finally, a sleep supplement that won't leave you counting sheep. Nature Made's Extended Release Melatonin dual action tablet releases melatonin both immediately and gradually throughout the night to help you fall asleep faster and stay asleep longer. †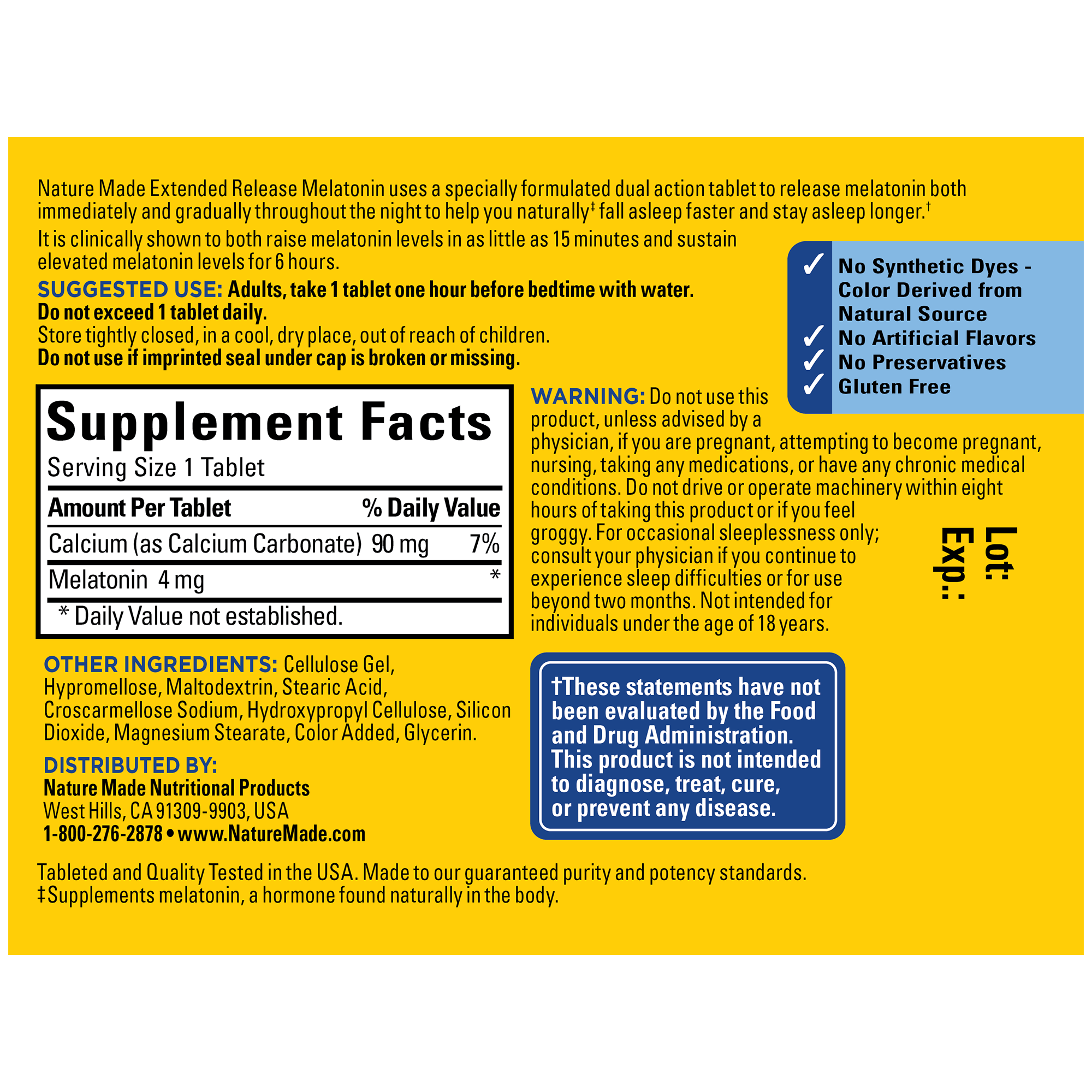 What's in our Extended Release 4 mg Tablets
Ingredients
Amount per Unit: Melatonin (4mg)
No Artificial Flavors
No Synthetic Dyes - Color Derived from Natural Source
No Preservatives
Gluten Free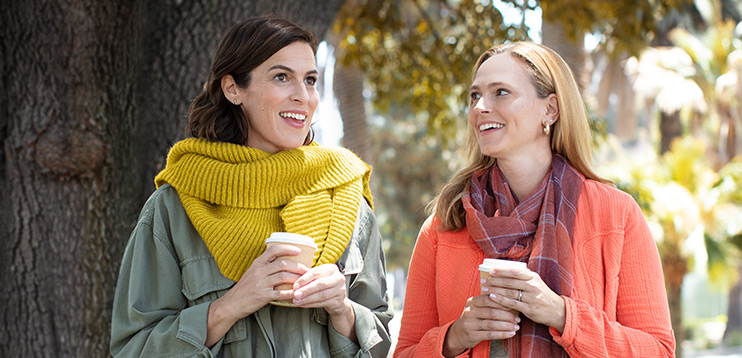 What dietary shortfalls does this product address?
Nature Made® melatonin products help you fall asleep naturally‡ by providing melatonin which works with your body to help you fall asleep without drugs.†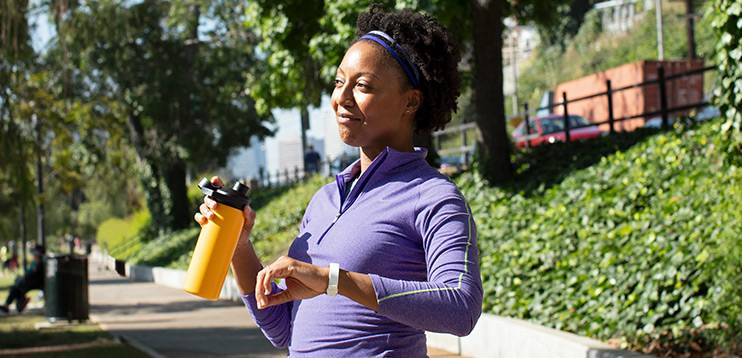 Where do we normally get this product from?
Melatonin is a hormone produced in the pineal gland in your brain and is also present in very small amounts in some foods like pistachio nuts, rice, milk, eggs, salmon and beef.
Who might need to take this product?
Glad you asked! It's specially formulated for adults who are looking to support restful sleep.
Suggested Use: Adults, take 1 tablet one hour before bedtime with water. Do not exceed 1 tablet daily.
Interactions
Melatonin should be used with caution when combined with medications, including antidepressants, antianxiety medications, diabetes medications, narcotics, blood pressure medication, and asthma medication. If you are using these or any other medications, please consult with your physician prior to using melatonin.
Use caution:
Do not use this product, unless advised by a physician, if you are pregnant, attempting to become pregnant, nursing, taking any medications, or have any chronic medical conditions. Do not drive or operate machinery within eight hours of taking this product or if you feel groggy. For occasional sleeplessness only; consult your physician if you continue to experience sleep difficulties or for use beyond two months. Not intended for individuals under the age of 18 years.
---
Questions? We've got answers.
What is Melatonin and what does it do?
Melatonin is a naturally occurring hormone that is produced by the pineal gland found within the brain. It helps to reset the body's sleep and wake cycle every day.†
How does this product differ from your other Melatonin products?
This unique melatonin product is formulated in a dual action tablet, to deliver melatonin both immediately (within 15 minutes) and gradually throughout the night, sustaining elevated melatonin levels for up to 6 hours. This can help you to naturally‡ fall asleep faster and stay asleep longer.†
Can children take the product?
Nature Made® Extended Release Melatonin Tablets are designed to be used by those 18 years old and over. Those below the age of 18 should check with their doctor before taking.
Are there any side effects from taking this product?
Mild side effects may include headaches, dizziness, nausea, vivid dreams and lack of appetite. Other reported side effect include change in heart rate; if you experience this or other persistent side effects, discontinue use and consult with your healthcare provider.
How long can I take this product?
This product is for occasional sleeplessness only; please consult with your physician if you continue to experience sleep difficulties or for use beyond two months.
Can I take this with another Melatonin product?
We do not recommend taking any other Melatonin containing products while taking Nature Made Extended Release Melatonin.
Why is there Calcium in this product?
Calcium in a non-active ingredient in this formulation used to help hold the tablet together and can help contribute to your daily calcium needs.