Helps support healthy vision & eye function†
Sourced from high quality ingredients
Can be found in a well-balanced diet
What this Supplement is
Do you see what we see? The eyes need support just like every other part of the body. Nature Made Vision AREDS 2 is a vision supplement specially formulated to do just that. Lutein and Zeaxanthin are carotenoids found in the macula of the eye that help support your eye's natural blue light filter. † Both of these nutrients help protect healthy eyes from the effects of blue light produced by the sun, indoor lighting and digital devices. Vitamin C and Vitamin E are essential vitamins that are good for the eyes because they provide antioxidant support. Copper and Zinc are essential minerals that also provide antioxidant support. Vision AREDS 2 combines these key carotenoids and antioxidants to help support healthy vision and eye function.†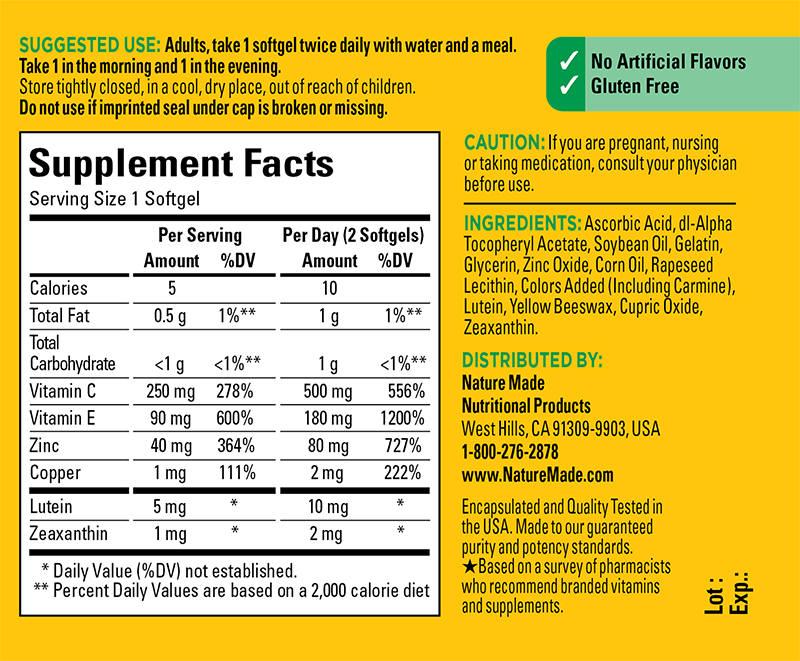 What's in our Vision with AREDS 2 Formula
Ingredients
Amount per Unit: (2 softgels): Vitamin C: 500 mg, Vitamin E: 180 mg, Zinc: 80 mg, Copper: 2 mg, Lutein: 10 mg, Zeaxanthin: 2 mg.
No Artificial Flavors
Gluten Free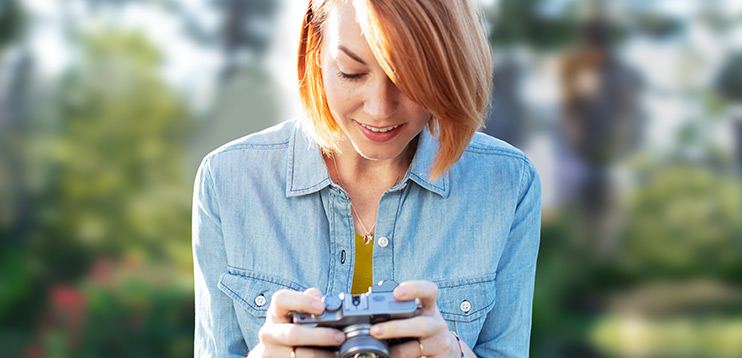 What dietary shortfalls does this product address?
Vitamin C is a shortfall nutrient. More than 45% of Americans are lacking it in their diet.[1] More than 80% of Americans are lacking Vitamin E in their diet, Zinc is about 15%, Copper is about 6%.[1]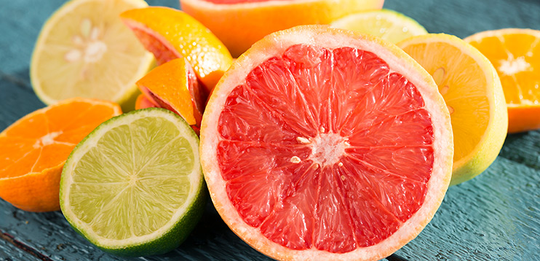 Where do we normally get this product from?
Vitamin C is found in citrus fruits like oranges, lemons, grapefruit and limes. Vitamin E is found naturally in nuts and vegetable oils. Zinc is found in beef, poultry, and shellfish. Food sources of Lutein include green, leafy vegetables such as spinach, kale and collard greens as well as broccoli and green peas. Copper is found in shellfish, nuts, and legumes such as lentils. Zeaxanthin is found in foods such as yellow corn, orange pepper, honeydew, mango, and even orange juice!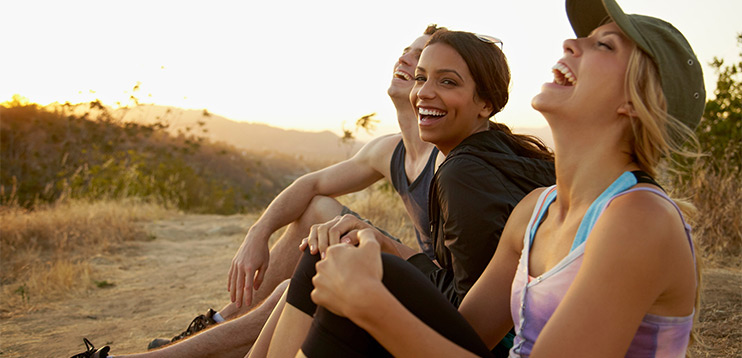 Who might need to take this product?
Good question! Vision with AREDS 2 Formula is an eye health supplement for adults looking to help support their healthy vision and eye function.†
Suggested Use: Adults, take 1 softgel twice daily with water and a meal. Take 1 in the morning and 1 in the evening
Interactions
No two people are alike, so if you are taking medications, you should be aware that potential drug-nutrient interactions may occur. Consult a healthcare professional before using this product. Combining certain prescription drugs and dietary supplementation can lead to:
Diminished drug effectiveness
Reduced supplement effectiveness
Impaired drug and/or supplement absorption
Use caution:
If you are pregnant, nursing, or taking medication, consult your physician before use.